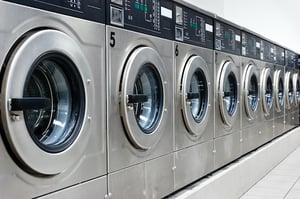 Is your washing machine washed up? Is your dryer burning out? If so, it's time to consider an upgrade.
But before you dish out money on brand-new laundry equipment, you first have to figure out what you need your machines to accomplish.
How often do you do laundry?
How often do you need to wash bulky items, like towels or blankets?
Do you have any items that need deep cleaning, like sports uniforms or work clothes?
Answering these questions will give you a better idea of what you need and what you don't need, as well as help you choose whether you want domestic or commercial laundry machines.
In this post, we'll discuss the differences between domestic and commercial washer and dryer sets and when you would choose one over the other.
Reliability and Durability
Commercial laundry equipment is engineered to minimize downtime and streamline maintenance. Industry-leading Maytag®, for example, has achieved a reputation for dependability. Maytag® commercial washers and dryers are reliable and built strong to withstand the high-volume usage that occurs in coin, multi-housing, on-premise, and industrial laundry environments.
Maytag® commercial front-load washers feature a DuraCore Drive System that's designed and tested to run 15,000 cycles (based on 11-pound load, 34-minute timed cycle). The DuraCore Drive System's advanced design increases the longevity of the machine. For this reason, when it comes to their basic construction, commercial laundry machines are built to endure more use and abuse than domestic machines.
Cycle Times
When it comes to speed, dry times for commercial laundry machines are pretty much on par with domestic. Where you make up time is on the wash end. Domestic cycles are well over an hour and as much as an hour and a half. The commercial washer cycle time is about 30 minutes.
Warranty
Domestic laundry machines come with a manufacturer's warranty and don't last longer than a couple of years. And if a domestic machine is used in a commercial environment, the warranty is void. Commercial laundry equipment is built to sustain more use. While the cost of these machines is higher than their domestic counterparts, they have a longer lifespan and come with an extended warranty. Maytag® commercial laundry machines are backed by a five-year limited warranty—all parts covered.
Cost
Because commercial washers and dryers are designed for continuous use, they're more expensive than domestic machines. But even though domestic machines cost less, they're more expensive in the long run. There's no warranty for a domestic washer or dryer if used in a commercial environment.
Supply
Commercial-grade machines use the same water and power supplies as domestic machines, but if you're looking for more capacity, then it could become an issue.
Footprint
At Lakeside Laundry Equipment, our commercial-grade machines have the same footprint as domestic machines.
Which Machines Should You Choose?
While the initial cost of commercial laundry machines is greater than domestic machines, the savings you'll achieve throughout the life of the machines make it the more economical choice. If you can afford to make the investment, commercial laundry equipment will pay off in the long run.
The Lakeside Laundry Equipment team is here to help you select the best commercial washers and dryers to help you succeed in the ongoing operation of your business or facility. We've placed thousands of commercial laundry machines in a range of high-usage applications in multi-housing locations, on-premise laundry facilities, and coin-operated laundromats across Michigan, Ohio, and Western Pennsylvania.