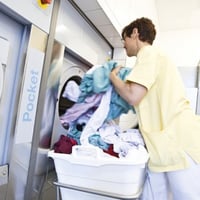 On Premise Laundry operations can gain better control over the finished quality of linens, which will help to ensure a longer lifespan of the linen investment. This is achieved with new, highly efficient on premise laundry equipment. Commercial washers that have the fastest spin speeds to increase water removal, reduce dry time and shrink utility costs and new, energy-efficient dryers with auto dryness cycles and custom programs for precise controls. All are user-friendly with one-touch operation to decrease staff training time and self-diagnosis to quickly pinpoint a problem, reducing downtime and service expense.
Lakeside Laundry can optimize your OPL laundry room by providing Electrolux, Maytag and Wascomat commercial and industrial laundry equipment. All of our on premise laundry machines are produced with the highest quality materials and craftsmanship in a range of sizes and features, tailored for a variety of uses. We back those products with factory warranties and Lakeside Laundry's, award-winning service.
We sell, service and lease on premise laundry equipment to the hospitality industry, health care facilities, day spas, country clubs, veterinary clinics, animal hospitals, kennels, stables, daycares, shelters, prisons, and any other facility that requires an on premise laundry operation.