Whether you're looking for new commercial laundry equipment to upgrade your current housing facility or launching a brand new laundry business, you want the best equipment possible to contribute to productivity, efficiency and sustainability in your laundry operations. Lakeside Laundry Equipment is proud to carry and represent a variety of top commercial laundry equipment brands, including Maytag. We sell, service, lease and rent Maytag stackable washer and dryer units in coin, multi-housing, on-premise and industrial laundry environments in Michigan, Ohio, and Western Pennsylvania. Learn more about our Americans with Disabilities Act (ADA)-compliant stacked washer dryer combos below.
Maytag Stacked Washer and Dryer – 60Hz Models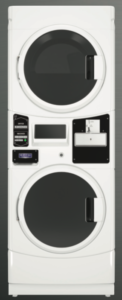 Maytag stacked washer and dryer 60Hz models are designed and tested to run 15,000 cycles. All within floor space of a single unit, the large capacity of the 3.1 cu. ft. washer provides ample room for bulky items, while the extra-large, 6.7 cu. ft. dryer allows for loads to be dried effectively – maximizing facility productivity.
Maytag stackable washer and dryer sets feature an extra blower wheel that optimizes performance in long vents, while airflow reduces drying times for a wide range of loads – increasing efficiency and turns over the life of the machine.
Features
Intelligent controls with M-Series Technology
DuraCore Drive System
Advanced spin technology
Five-year limited warranty
TurboVent® Dryer Technology
Watertight, flexible triple-lip seal with garter spring
ENERGY-STAR®-certified
Premium bearings
Coin-drop option
Debit card compatibility
Literature
Maytag Commercial Single-Load Super-Capacity Stack Dryer

The commercial single-load super-capacity stack dryer can potentially double your dryer income and help eliminate waiting with two dryer pockets in the same floor space as one single-load dryer. Advanced Computer Trac® Controls allow for easy programming and front access allows for easier self-service.
Additionally, this machine features an Accu Trac® audit system with two-way data communication, as well as easy-to-use one-touch cycle selection with a large window for convenience.
Features
Four roller suspension with permanently lubricated bearings
Blower guard reduces service calls
Premium security vault
Five-year limited warranty
Advanced Computer Trac Controls
Large-capacity metal mesh lint filter
Extra-large 7.4 cu. ft. capacity
Time-remaining display
Debit card compatibility
Dual coin-drop option
Literature
Fulfill Your Laundry Needs With a Maytag Stackable Washer and Dryer
The Lakeside Laundry Equipment team is here to help you select the best commercial stacked washer dryer combos to help you succeed in the ongoing operation of your business or facility. We're committed to providing superior products and maintaining high customer satisfaction. Learn more about our Maytag stacked washer and dryer sets by contacting us today.