A Leading Laundry Payment App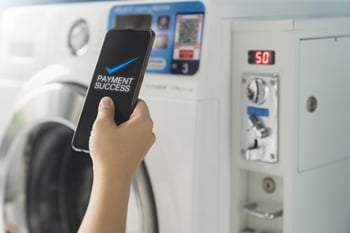 For a long time, coin-operated laundry machines were just that—strictly coin-operated. When credit cards became a popular payment option, some laundromat and building owners converted. However, laundry owners are now making the shift to laundry payment apps.
Mobile payments bring in the right type of customer, among other benefits. Smartphones have become a vital part of daily American life, and that extends to how people are spending money.
A study by the Board of Governors of the U.S. Federal Reserve System found that in 2011, only 12 percent of Americans were using mobile payments. By 2014, that number grew to 22 percent. As technology expands, mobile payments are expected to continue to rise in popularity.
At Lakeside Laundry Equipment, we use PayRange. The PayRange laundry app, a leading payment network for coin-operated machines, works in conjunction with card or coin depending on the type of machine and makes paying for laundry easier than ever. All it takes is a BluKey in your machine and a "PayRange Accepted Here" sticker to delight your customers and lift sales.