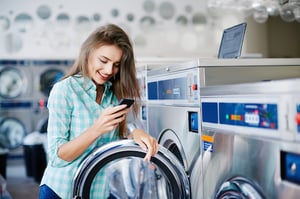 For a long time, coin-operated laundromats were just that – strictly coin-operated. Customers either brought in bags of quarters to a store to use the washers and dryers, or they used the change machine inside the store. There was no confusion or difference of opinion on the currency used to pay for laundry services.
That has all changed, however. When credit cards became a popular payment method, some laundromats converted with the times. Card machines are now common sights in laundry facilities, along with coin machines. By giving customers multiple payment options, business owners are trying to expand their market.
The advancement in mobile payments has forced laundry owners to reconsider their charging processes once again. As more customers, especially young people, use mobile services to buy items, laundromats must consider adopting the technology as a valid payment. However, there are pros and cons to installing and accepting mobile payments, ones that must be considered before making a final decision on whether to accept them inside a laundromat.
Mobile payments bring in the right type of customer
Smartphones have become a vital part of daily American life, and that extends to how people are spending money. A study by the Board of Governors of the U.S. Federal Reserve System found that in 2011, only 12 percent of Americans were using mobile payments. By 2014, that number had increased to 22 percent. Mobile payments are expected to continue to rise in popularity as the technology expands.
Young people specifically are utilizing the payment option, with 34 percent of people between the ages of 18 and 29 – and 31 percent of those between 30 and 44 – regularly using mobile payments as a way to spend money.
Those demographics also fit the people least likely to have access to a washer and dryer at home. The U.S. Census Bureau reported in 2013 that 73 percent of Americans ages 15 to 29 had a clothes washer in their home, far below the national average of 85. 2 percent.
Some laundromats already have begun accepting mobile payments along with cash and credit cards. Laundry applications for smartphones have grown in popularity in recent years, giving users the options to have their clothes delivered and picked up at specific times. That flexibility also extends to payment plans, as laundry owners are hoping that by giving customers options, they will be improving the loyalty of those users.
With several mobile payment providers specifically designed for small business use, an owner can develop a strategy to fit a laundromat's specific needs. Pricing and setup for mobile payments is relatively simple for small business owners, Business News Daily explained. Even without a mobile app, allowing people to pay for laundry machines through Google Wallet, Venmo or Apple Passbook opens up a business to a new group of customers that otherwise may look elsewhere for their clothes washing needs.
Mobile and credit card payment options also drastically reduce the possibility of theft and vandalism.
Mobile payments include safety risks
Mobile payments has its risks, ones that laundromat owners must be aware of before accepting that form of currency in their businesses. While cash can be counterfeit and credit cards can be stolen, both of those types of payments are relatively safe. The drawbacks to using mobile payments are partially because of the dangers involved with the new technology but also involve the process of setting the system up.
A 2013 LexisNexis study on the cost of mobile banking found that the number of merchants who accept mobile payments is rising, but at the same time, many businesses are not seeing the type of profits they desired because of fraud. A fraudulent transaction through a mobile payment application results in $2.83 of costs for every dollar of actual fraud losses, the study stated. Those costs can really multiply for a business owner that is not careful about who is making payments at his or her store.
Additionally, Inc. magazine stated that small businesses are big targets for criminals. Because a small business generally is unable to afford the safety and security measures that larger companies can, fraudsters tend to attack those locations. A laundromat needs to be sure that mobile payments are safe for users, so that customers can be reassured that if they keep coming back, their personal information is secure.
Along with fraud, installing the technology to allow for mobile payment on washers and dryers would also take some up-front costs and effort. However, that work is manageable if a laundromat owner feels that the benefits of having mobile payments outweighs the risks. A growing number of customers use their smartphone to spend money, and a laundromat can tap into that market by allowing those types of purchases in addition to traditional coins and credit cards.
This blog post was originally published on EasternFunding.com.