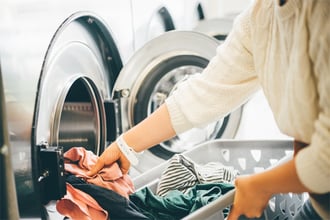 Whether you're a laundromat owner or have multi-housing or on-premises laundry equipment, it's important to keep your commercial laundry equipment up to date. Replacing old and outdated equipment with new machines provides many benefits, from increased end-user satisfaction to improving your bottom line.
In this blog, we'll discuss in more detail why you should consider replacing your old commercial laundry equipment and the telltale signs that indicate it's time to upgrade your machines.
5 Signs You Need to Replace Your Commercial Washers and Dryers
1. Your Utility Costs Are High
If your utility costs are higher than expected, it may be time to upgrade to newer, more energy-efficient commercial washers and dryers. These machines can help generate significant savings in water and energy costs, whether it's natural gas, electric, or both. Using less water, electricity, and gas means lower utility costs, which can have a major impact on your profitability. Additionally, by investing in energy-efficient equipment, you may be able to apply for tax credits or rebates.
2. Your Customers/Consumers Aren't Satisfied
Laundry equipment that isn't cleaning and drying clothes properly, or machines that constantly break down, is an inconvenience to your customers/consumers. Upgrading and replacing your commercial laundry equipment can be a huge factor when it comes to getting customers to your laundromat or attracting and retaining renters. Replacing your old equipment means your end users get:
Furthermore, new laundry equipment will help improve the overall look and feel of your laundromat or multi-housing complex, making it more inviting.
3. You're Lacking the Technology You Need
The advancement in laundry payment apps has forced laundry owners to reconsider their charging processes once again. As more consumers, especially young people, use mobile services to buy items, laundry owners must consider adopting the technology as a valid payment.
New technologies on laundry machines can improve security, efficiency, and increase end-user satisfaction and retention. Some laundromats have already begun accepting mobile payments along with cash and credit cards. Laundry applications for smartphones have grown in popularity in recent years, giving users the option to have their clothes delivered and picked up at specific times. That flexibility also extends to payment plans, as laundry owners are hoping that by giving customers options, they will be improving the loyalty of those users.
4. You're Spending an Increasing Amount of Time and Money on Repairs
Broken or malfunctioning equipment is a pain—and expensive—both for service charges and the opportunity cost of lost revenue while machines are out of service. Downtime should be avoided whenever possible. Older washers and dryers are more likely to break down and need repairs, which limits your profits and increases maintenance costs. With newer machines, you'll avoid regular maintenance services and downtime.
5. Your Machines Look Old
Old equipment doesn't look as nice in your facility, which is going to impact how end users view your laundromat or multi-housing facility. There's something to be said about new, "shiny" equipment when walking into a laundromat or apartment complex. It gives off a sense of cleanliness, quality, and professionalism. If anything, upgrading to new equipment can be a way to boost your facility's interior and give a great first impression for someone walking through the door for the first time.
Partner With Lakeside Laundry Equipment
If you're ready to upgrade your washers and dryers, Lakeside Laundry Equipment has the high-efficiency units you need to succeed in the ongoing operation of your business or facility.
We've placed thousands of commercial laundry machines in a range of high-usage applications in multi-housing locations, on-premise laundry facilities, and laundromats across Michigan, Ohio, and Western Pennsylvania. We offer commercial laundry equipment from brands you know and trust, industry-leading customer service, and efficient, quality repairs from certified technicians.