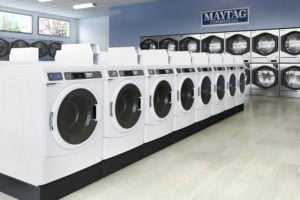 If you're looking for a reliable business investment that's easy to start, flexible and cash-generating, opening a laundromat might be for you. Laundromats have minted successful entrepreneurs for generations, and Lakeside Laundry Equipment will help you through every step of the design, construction and operation of your laundry business. Here are five reasons why you should consider starting a laundromat business:
1. The Right Partner Makes It Simple
Working with a full-service partner like Lakeside Laundry Equipment takes the stress and uncertainty out of the equation. We offer professional demographic and competitive studies and analyses of sales and profitability, as well as provide a comprehensive site drawing that meets technical specifications, customer ergonomics and incorporates your design suggestion.
2. Strong, Consistent Returns
People need to wash their clothes regardless of seasons or economic conditions. Laundromats tend to produce steady income.
3. Turnkey Potential With Very Little Out-of-Pocket Expense
With the right partner, a laundromat requires no inventory, receivables or franchise fees. With a minimal investment, your business can be up and running and making you money with the latest high-efficiency equipment making you the best returns possible. A good partner will also provide ongoing support like maintenance assistance, marketing tips and more.
4. Flexibility and Low Overhead
Today's laundromats are largely automated, and with a partner providing the machines and handling training, your staffing needs are minimal.
5. Choices
You can tailor the business to your needs and expectations. Your options in terms of size, location, staffing and amenities are up to you, and you can add features to generate further revenue, such as vending and entertainment options. It's your business!
Get Started Today!
Lakeside Laundry Equipment has worked with hundreds of entrepreneurs in our more than 70-year history. It's been a joy to see so many independent business owners thrive.
Whether you have an existing laundromat that needs retooling or you're interested in starting a laundromat business, partnering with a proven provider will give you a fast head start and ongoing support that you can trust. To learn more about this lucrative investment opportunity, including how to start a laundromat business, contact us today.