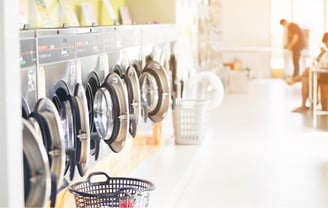 As a laundromat owner, it's not unrealistic to expect returns upwards of 25 to 35 percent. Your profit, however, rests in the quality and performance of your machines, location, and marketing efforts, among other factors.
If your return on investment isn't what it used to be, it might be time to re-evaluate your laundromat and restore your competitive edge. This means taking a critical look at your store to identify gaps in your service, as well as areas where you've got an edge.
Here are some areas of opportunity to improve and increase your return on investment.
Look at Your Location
There are a lot of things about your business you can't easily change. Your location, square footage, or the demographics of your local area are some of them. But just because your business can't change doesn't mean other things aren't changing. Take visibility, for example.
Maybe your area has built up since you first opened, and now your laundromat is lost amid dozens of other businesses. Is it time for a new sign? Having signage on your store exterior is the simplest way to drive traffic. Add lighting and include roadside signage to increase visibility.
Has the makeup of businesses around you changed? If you're in a shopping mall where an anchor tenant has left and taken customers with it, look at your lease to see if that qualifies you for a reduction in rent proportional to the loss in business.
Has the makeup of residents around you changed? Are there fewer families than there were five years ago, and more single professionals? Different groups may need different things. It could be as simple as offering signage in a second language. Or it could mean an opportunity for a big shift in business, like adding wash/dry/fold services.
Review Your Marketing
The laundry industry is a competitive market, and unless you're the only store in a small town, you're going to have competition. Anything you can do to get people into. the store is positive. These marketing tips will help promote your laundromat and bring in customers:
Customer Appreciation: Increase customer loyalty by hosting a barbecue or offering a loyalty program with multiple incentives and rewards.
Coupons and Special Pricing: The right deal can do more than draw in customers; it can increase your profit. Time-of-Day and Day-of-Week pricing could draw in customers during slow periods and free up machines during busy times.
Social Media: Posting on sites like Facebook, Instagram, and Twitter provides great opportunities to extend your reach.
Reviews: Whether or not you have a website, make sure your information is current on sites like Yelp and Facebook. While you're there, see what customers are saying about you. A timely response to questions or complaints can go a long way.
Advertising: If you are advertising in local publications, online, or just by putting up flyers in the neighborhood, consider what you're promoting and to whom. If you're facing a lot of competition, especially in a high-density area, it's not always about being cheaper or bigger: it's about being able to distinguish yourself. Customers want more than low vend prices. They want available machines, convenient hours, and comfortable amenities. Promote what your store has.
Make Customer Service a Focus
Small changes such as making sure the store attendants are in branded uniforms are important. This can simply be a branded apron or t-shirt. Your customers will know who to go to in case they need help. Train the attendants to greet each customer – with a smile. Make sure they can help a customer who may not know how to operate the machines. Other things such as answering the phone professionally are essentials of good customer service.
Customer service extends to the facilities in the store too. Conveniences such as automatic doors or even wide entryways remove the need for customers to struggle with doors while pushing laundry carts or carrying laundry bags. Other must-have conveniences include clean bathrooms (with baby changing stations!) and reading nooks for children.
Take Stock of Your Machines
The most obvious improvement is an equipment retool. Sometimes there's no single reason to upgrade (or retool) your laundry equipment. But don't let the fear of a large financial investment scare you off – beyond the price of laundry machines you will see the benefits of cost savings over time. Here are just a few reasons it might be time to retool your store.
| | |
| --- | --- |
| Factor | Benefit |
| High number of service calls | New equipment includes a warranty |
| Increased utility costs | New machines are more efficient |
| Lost business during high traffic times | Maximize floor space with more or larger machines |
| Some machines aren't getting any turns | Balance your machine mix with larger capacities |
| You've got competition | Take the lead and offer a better, more reliable experience |
| New features can be monetized | Flexible pricing can help you leverage cycles and options |
| Outdated controls are losing potential profits | Charge more per load with larger capacities |
| Looking to attract customers | A modern look appeals to new customers |
| Technology advancements | Connectivity opportunities include remote management and detailed diagnostics |
Additional Revenue Streams
Adding additional revenue streams is one of the easiest ways to increase your laundromat earnings. Not only will this help with your current customers, but it'll help attract new customers.
Ideas for additional revenue streams include:
Food and drink vending machines
Laundry item vending (i.e., detergent, dryer sheets, fabric softener)
Wash and fold services
Arcade games
Free Wi-Fi
Let Our Brand Help You
As you build your store brand and drive traffic, Lakeside Laundry Equipment can help – from the sign out front that draws customers in to the machines that keep them coming back. We've spent decades committed to providing superior products and maintaining high customer satisfaction.
Our team is here to help you succeed in the ongoing operation of your laundromat. As you build your store brand and look for opportunities to increase your ROI, count on us to be by your side. Contact us today for more information!
If you're ready to sell your laundromat, we have investors ready to buy. Find out How.