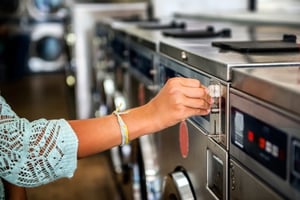 Whether you currently own a laundromat, are looking to start a laundromat business, or own a multi-housing property, there is a payment option for you.
Deciding which payment method to give consumers comes down to:
Who you want to cater to
Where you're located
The demographics you're looking at
By giving consumers multiple payment options, though, you will expand your market.
In this blog, we'll discuss the different laundry payment options and the pros and cons of each to ensure you make the right investment.
Coin-Operated
For years, coin-operated laundry equipment was the only option when it came to vended laundry. And even though there are more payment methods available, coin machines still command a major share of the laundry industry. Coins are the old standard, and coin laundry is what people are used to.
Coin systems are typically less expensive to purchase and operate, easier to use, and easy for people to understand. They're also less expensive to install and more readily available—more suppliers may carry coin-operated machines.
However, coin-operated washers and dryers are increasingly becoming more outdated, and due to lack of technology, they don't allow you to track a transaction. You'll need to spend your own time, or pay employees, to collect, transport, and count coins.
Additionally, there is an increased risk of theft because the coins are in the machine, ready to be taken. You also miss out on consumers and markets that don't carry coins.
Card-Operated
While coin-operated washers and dryers are what people are used to, card-operated laundry is what people are coming to expect. Rather than getting coins from the bank, users can simply use a smart card or credit card, making the transaction more convenient.
Smart card-operated and credit card-operated washers and dryers have changed both multi-housing laundry facilities and laundromats, which have traditionally been coin-operated. Modern technological advancements provide an easier, more profitable solution for laundromat owners, multi-housing property owners, and apartment managers to:
Maximize income
Attract new consumers/residents
Improve the laundry experience
Even though card laundry payment systems eliminate the hassle of residents and customers having to dig for loose change, some people may not feel comfortable using a card, especially if they're used to using coins.
As a laundromat or multi-housing property owner, you may also need to change your accounting system and retrain employees.
Mobile App
The advancement in laundry payment apps has forced laundry owners to reconsider their charging processes once again. As more consumers, especially young people, use mobile services to buy items, laundry owners must consider adopting the technology as a valid payment.
Smartphones have become a vital part of daily American life, and that extends to how people are spending money. A study by the Board of Governors of the U.S. Federal Reserve System found that in 2011, only 12 percent of Americans were using mobile payments. By 2014, that number had increased to 22 percent. Mobile payments are expected to continue to rise in popularity as the technology expands.
Young people specifically are utilizing the payment option, with 34 percent of people between the ages of 18 and 29—and 31 percent of those between 30 and 44—regularly using mobile payments as a way to spend money. They can simply download the app, add funds, and swipe to pay.
With several mobile payment providers specifically designed for small business use, an owner can develop a strategy to fit a laundromat's specific needs. Pricing and setup for mobile payments are relatively simple for small business owners.
Mobile payment options also drastically reduce the possibility of theft and vandalism.
Mobile payments have their risks, though. The drawbacks of using mobile payments are partially because of the dangers involved with the new technology but also involve the process of setting the system up.
We're Here to Help
Whichever payment method you choose, Lakeside Laundry Equipment offers customers convenient options for coin, card, and mobile app payments.
We're a proud supplier of industry-leading coin- and card-operated washers and dryers. We also use the PayRange laundry app, a leading payment network for coin-operated machines that works in conjunction with card or coin depending on the type of machine.