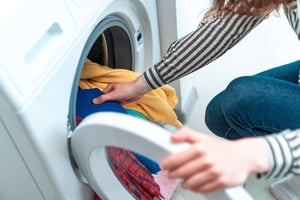 Are you a building owner looking to create a new revenue stream for your apartment complex or multi-housing facility? If so, consider making a long-term investment in the property by offering on-site laundry.
Having high-quality commercial laundry equipment on-site not only will help with your current tenants, but it can also help to attract qualified renters and improve your bottom line.
There are many options available, from coin-operated to smart card laundry machines, both of which offer an incremental cash stream. This provides an additional means of income that isn't difficult to maintain, especially when you work with a professional commercial laundry equipment provider like Lakeside Laundry Equipment.
Why Invest in on-Site Laundry?
Better Marketability
A common, well-designed multi-housing laundry space can be a strong selling point to prospective residents choosing between your multi-housing community and another complex.
With on-site washers and dryers, your apartment becomes much more desirable to (most) potential renters. It provides renters with convenience and ease of access. Assuming there are no washers and dryers installed in each unit, a common facility is an attractive alternative to having to take laundry to a local laundromat, especially for families.
Given the choice, most people would choose an on-site laundry option, if available. In fact, many renters won't even consider living in a building that doesn't offer some form of laundry solution.
Higher Rents
Because all on-site laundry machines (even in-unit hookups) are such an attractive amenity for renters, it means you'll be able to charge a premium for rent, allowing you to help offset the cost of an on-site laundry facility.
Some building owners offer coin-operated washers and dryers or equipment that takes prepaid laundry cards, while others provide them for free if the tenant agrees to pay more in rent. While raising rent never makes tenants happy, they're more likely to be on board when you're adding an amenity that provides value and convenience.
Decrease Turnover
Every time a tenant moves out, you're losing money. You're not only losing monthly income until you find new renters, but you're likely paying to:
Make necessary upgrades to the unit
Have the unit professionally cleaned
Advertise the vacancy
While a clean, well-kept community laundry room may not be the only reason a resident stays long-term, the added convenience of having on-site laundry helps encourage renters to become long-term renters.
Add Revenue to Your Apartment or Multi-Housing Facility
If you've considered investing in laundry solutions for your apartments and multi-housing facilities, there are several ways to approach setting up a laundry facility so that it provides a new revenue stream for you.
Lakeside Laundry Equipment offers coin-operated laundry services for apartments and multi-housing facilities, as well as washers and dryers that are smart card- and credit card-operated.
Smart card- and credit card-operated laundry machines have changed the multi-housing laundry equipment industry, which has traditionally been coin-operated. Modern technology provides an easier, more profitable solution for multi-housing property owners and apartment managers to:
Maximize income
Attract new residents
Improve current residents' laundry experience
The innovation of smart card-operated commercial laundry machines has allowed for new marketing ideas, flexible payment possibilities, and income transparency. All the commercial laundry machines we provide are proven performers, dependable, and energy-efficient. We supply high-quality commercial washers and dryers from the brands that you know and trust, including ESD®, Maytag®, and Whirlpool®.
With over 70 years of combined commercial laundry equipment experience, we have placed thousands of commercial washers and dryers in a variety of high-usage applications in multi-housing laundry locations across Michigan, Ohio, and Western Pennsylvania.
If you're interested in learning more about our laundry services for apartments and multi-housing facilities, or need help getting started with on-site or in-unit laundry, contact us today.