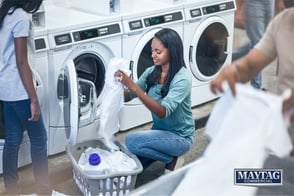 As a property manager or landlord, it's important to choose commercial appliances like washers and dryers that operate efficiently for residents and are cost-effective for you. Many brands exist, but finding the right line of machines as well as the right commercial laundry provider is what will set your laundry services apart from competing multi-family residences.
Below, we share tips for choosing the best washing machines for your property, along with specific attributes of trusted brands. For more multi-family housing laundry solutions, check out our helpful overview.
Six Components to Consider When Purchasing and Installing New Commercial Laundry Equipment
1. Energy and water consumption
Washing machines and dryers today are using much less energy and water than they once did. In fact, the amount of water consumed on average for a commercial machine has been nearly cut in half, from what was once 30 gallons to today's 13-15 gallons. It's also important to note that using gas energy is more efficient than using electric energy. If your property allows for gas hookup on commercial machines, we recommend it for performance and cost savings.
2. Size
When it comes to the dimensions and weight capacity of your commercial washing machines, you simply have to consider your audience. For example, if many of your residents have young children or larger families, they will most likely need machines that can handle large capacity and run efficiently. The same goes for senior living communities where linens and bulkier items like bedding need consistent washing. Climate also plays a role. If your property is located in an area that takes on tough winters, higher weight-capacity machines will be essential to support heavier winter clothes and blankets.

3. Style
Commercial washing machines come as top-loaders, front-loaders, or stacked. If you're desperately seeking space, stacked machines are the way to go, but they generally operate less effectively and hold less water capacity. The difference between top-loaders and front-loaders isn't drastic in terms of performance, but when it comes to cost savings, top-loaders will give you more bang for your buck. Currently, 80% of our commercial laundry clients use top-loading machines. Additional notes to consider are that all machines must be ADA-compliant, and front-loaders must show a front-facing display.
4. Special features and payment options
Technology on commercial washing machines continues to improve, creating less of a hassle for property managers and residents alike. Today, many commercial machines offer mobile app technology, which can signal to residents when their laundry cycle is complete. On the flip side, commercial laundry providers can better diagnose and resolve issues, as well as keep track of machine payments and equipment costs. Many machines are also starting to shy away from coin operation. Now, residents can use an app or swipe a credit card.
5. Brand
As we stated before, it's important to choose a reliable and well-reputed commercial washing machine brand. At Lakeside Laundry, we carry the major brands: Maytag® and Speed Queen®. In addition, we also carry more specialized brands. Each of these brands offers top-of-the-line equipment with high efficiency and sustainability. Learn the major pros of each brand below.
Maytag®
Pros: Dependability, built strong for high-volume usage and capacity, engineered for energy efficiency and cost-savings
Speed Queen®
Pros: Advanced technology, 100-year reputation, easy to use, high-efficiency
Whirlpool®
Pros: Exceptional value, high-quality design, energy-efficient
ESD®
Pros: Convenience, SmartCard technology-driven, reduced potential for vandalism and fraud
For more specifications on machines from different brands, visit our spec page. Here, you'll be able to compare size, design, and capacity.
6. Commercial laundry provider
You may have found a machine you like, and you know will deliver results, but who will be your commercial laundry provider and partner? Choosing a partner is just as important as choosing a machine. We recommend a partner that offers flexibility in leasing and purchasing options, timely service, transparent contract agreements, and trusted expertise. Learn more points to consider when choosing a commercial laundry provider for your apartment or multi-family housing properties, here.
At Lakeside Laundry Equipment, we provide all of the above and more, without any surprises or unexpected costs. We've serviced high-capacity, commercial laundry spaces across Michigan, Ohio, and Western Pennsylvania for over 30 years and are proud to offer the best in customer satisfaction.
Reach out to our team today, and we can help you decide what equipment and brands are best for your needs. Our customer agreements are always 100% transparent, and we take the time to go over each line of our contract with you. Our goal is to set you and your residents up with the most efficient and cost-effective commercial laundry equipment possible.